While cleaning out my inbox recently, I noticed that an ecommerce health and beauty brand has sent me emails almost every day for the past six months — despite the fact I haven't opened a single one.

Clearly, what this brand is doing isn't working. But the marketing team hasn't learned from it.

So what should you do if your customers haven't been engaging with your emails for a while? It's time to create a healthy and beauty winback campaign.

To do this, you have to closely monitor open and click rates. But more importantly, you also have to segment customers according to this data so you can move them to your inactive email segment. A general rule of thumb is to only send winback campaigns to customers that haven't engaged with your brand in any way on any channels.

If they aren't opening your emails, but are liking your social posts or visiting your website, then they may simply prefer to use those channels instead. It's also possible they're suffering from email fatigue and just need a break from your messages.

But if you're struggling to re-engage your buyers across every channel, you have to send out a strong winback campaign. Looking for some inspiration?

Here are some of the best examples of health and beauty winback campaigns we've found to inspire you to create winning email messages and campaigns that truly reengage customers and drive real ROI.
Top health and beauty winback campaigns
Benefit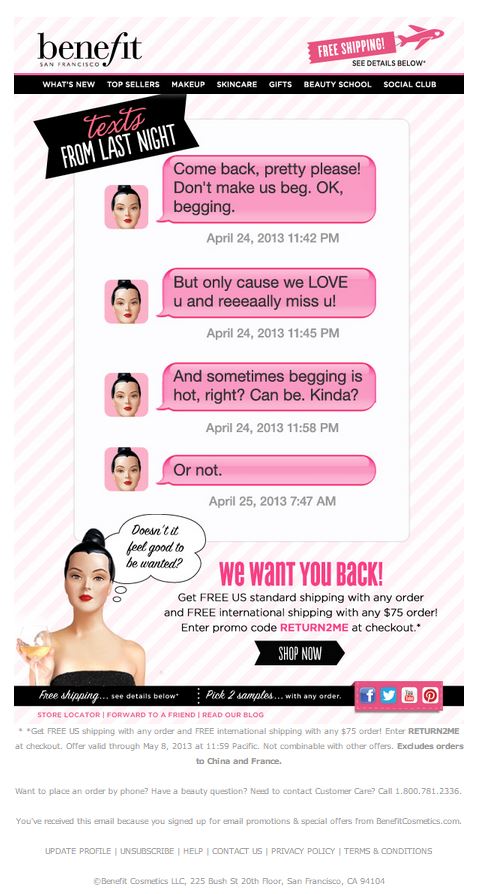 Benefit's winback campaign gets a gold star for quirky, funny copywriting and an eye-catching design. This email mimics the layout of a text message conversation and is designed to reflect the brand colors. The subject line – "Texts from last night" – is another example of clever copywriting and is a great tactic to entice customers to open and click.

This winback email also doesn't go straight for a product discount code, instead offering free shipping as an incentive to buy.

Feelunique
Feelunique offers a lot of different information and offers to encourage its customers to start engaging with emails again — from new products to free delivery, to 10% off if you join the VIP club.

While the email could benefit from fewer CTAs and more of a focused approach, it also includes information on what the brand has to offer and what makes it unique, which is fantastic.

Bare Minerals
Bare Minerals takes a different approach from Feelunique, instead sending a streamlined, focused email that only includes details of a 20% discount (with a minimum spend) on purchases. Copy and graphics are kept to a minimum and there is no other information or cross- and up-sell opportunities. This hyper-focused email is another way to approach a winback campaign.

Sephora
Sephora offers a product discount code in its beauty winback campaign email, which can be a risky strategy unless it's part of a well-thought-out strategy. However, customers have to spend a minimum of $50 to get the discount, which is a good way to improve your AOV. The discount is also mentioned in the subject line to add extra visibility to this promotion.

This email starts with the line "For Beauty Insiders Only", suggesting that this is an exclusive offer for loyal customers. It's always a good idea to play with FOMO in ecommerce.

Paul Mitchell
While you don't want to bombard your customers with emails in a bid to win back their affections, do consider creating a sequence of emails with different messages if they don't respond to the first one.

Haircare brand Paul Mitchell does that, letting its customers know that it's the final time that they will receive an email if they don't respond. This email uses emotive copy, creates a sense of urgency, and shows that the company listens to what its customers want — and don't want. It also includes one clear CTA.

Bath & Body Works
Not all customers are in buying mode all of the time, which is especially true for higher ticket items. Bath & Body Works recognizes this by asking customers to simply confirm whether they want to continue receiving emails from the brand, instead of trying to sell anything.

The email is clean and simple with a prominent CTA so customers can easily and quickly scan the message and click to confirm. This brand also mentions exclusive options as an additional incentive.

Dollar Shave Club
Innovative brands are also using winback campaigns to target customers who are still visiting their site, but aren't engaging with emails. Dollar Shave Club avoids sending out a discount, and instead focuses on the benefits of its products, as well as customer reviews, to encourage a purchase. It also uses engaging, on-brand copywriting and a clear, very obvious CTA.

This message shows customers that the brand is focused on sending relevant, personalized emails based on their past interactions, rather than generic batch and blast missives.

Despite your best efforts at writing witty copy, including eye-catching graphics, and offering a discount to incentivize the purchase, some customers won't respond to your health and beauty winback campaigns. In that case, you should remove them from your subscriber list or use engagement-based filtering to determine if they are still interacting with you on other channels.

The objective is quality not quantity, and removing inactive customers will benefit you in the long run by boosting your open, click, and conversion rates on emails. It will also lower the risk of your email being marked as spam or ending up languishing in the promotions tab.

But before you give up on these inactive buyers, send them one last, super engaging health and beauty winback campaign and see if you can't convert them one more time.